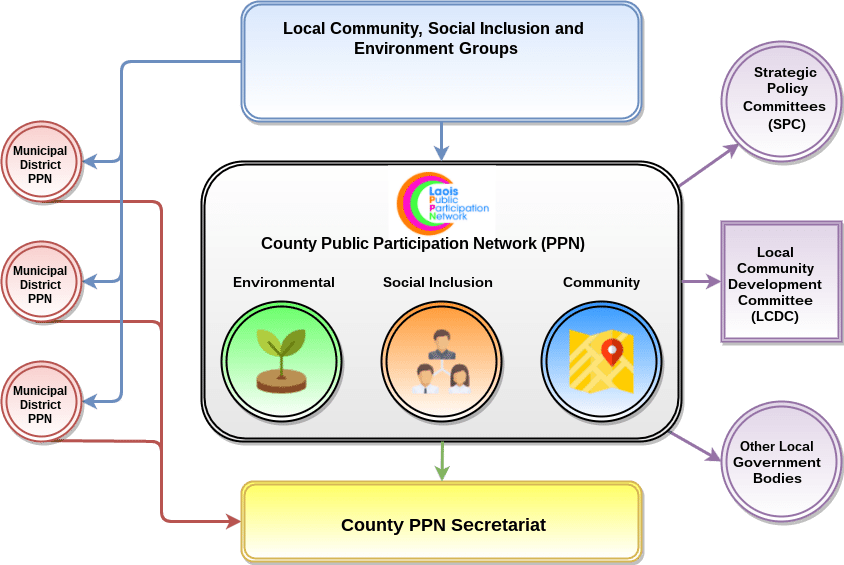 What is Public Participation Network (PPN)
---
Laois Public Participation Network (PPN) is the main link through which organisations in Laois can interact with Laois County Council and participate in policy-making structures and committees of Council. The network addresses three broad themes also known as Electoral Colleges and theses are 1) Community & Voluntary Organisations 2) Social Inclusion Organisations  & 3) Environmental Organisations

A) To facilitate and enable the public and organisations to express a diverse range of views and interests within the local government system.

B) To facilitate the local authority in making better and more timely decisions through a structure that ensures public participation and representation on decision-making committees and bodies within local government.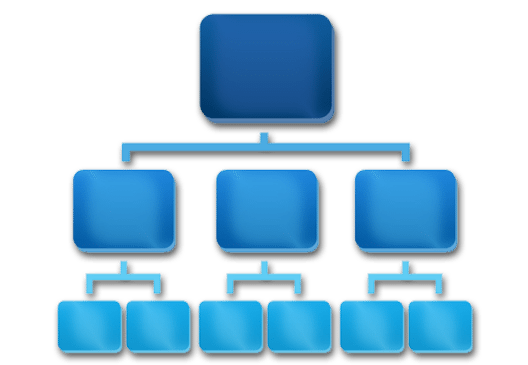 What is the organisational structure of the PPN?
---
The PPN is made up of a broad range of member organisations including Tidy Towns groups, Residents Associations, Sports Clubs, Community Councils, Youth Clubs, Environmental Groups and many more types of social inclusion, community & voluntary groups. The PPN is the network formed by all of these groups. Membership to the PPN ensures that organisations receive important information from Laois County Council and other public bodies. The PPN facilitates the sharing of information on funding opportunities, public consultations and policy development in Laois County and it also acts as a focal point for groups with similar interests to connect with one another and share information and expertise.
What is the role of the PPN?
---
To contribute to a vision for the well-being of this and future generations.
To facilitate opportunities for networking, communication and the sharing of information between environmental, community and voluntary groups, and between these groups and the local authority.
To identify issues of collective concern and work to influence policies locally in relation to these concerns.
To encourage and enable public participation in local decision making and planning of services.
To facilitate the selection of participants from the environmental, social inclusion and voluntary sectors onto decision making body.
To work to develop the Environmental, Social Inclusion, Community and Voluntary sectors so that the work of these sectors are clearly recognised and acknowledged, and that the sectors have a strong collective voice within the County.
To support the individual members of the Public Participation Network so that:
They can develop their capacity and work more effectively.
They can participate effectively in the Public Participation Network activities.
They are included and their voices and concerns are heard.
Why should your group join?
---
Networking – Share information and learn from other community & voluntary groups in your area or sector.
Create a sense of solidarity and collative action across the county.
Elect representatives to policy making boards and committees.
Avail of free or low cost support and training in the county.
How can my group benefit?
---
Get information on funding, grants and initiatives which are of interest to your group/organisation and community
Be part of a new way for the local authority to consult with the general public on its plans/strategies and services, including: Local Areas plans, County Development Plans etc
Elect representatives to local authority policy-making committees and influence what happens at these committees
Networking: share information and ideas, learn from other groups / organisations in your area or sector
Use the PPN's interactive web platform to link directly with other like-minded groups and organisations across the County
Register with a Special Interest Group and focus on areas that interest your group