Laois welcomed nominated delegates from 31 PPNs representing 18,000 PPN member groups from across Ireland for the National PPN Conference 2022. The conference took place in the Midlands Park Hotel from Friday the 21st until Saturday the 22nd of October.
The National PPN Conference 2022 marks yet another show case event in recent months hosted in Laois, following on from the National Ploughing Championship and Electric Picnic. Highlighting yet again what a wonderful County Laois is to live, work and visit.
The large number of delegates in attendance marked the significance and importance of this Conference. The National PPN Conference was organised by Laois PPN in collaboration with Laois County Council and the DRCD.
This two-day event saw hundreds of nominated delegates warmly welcomed to Laois by Conference Chairperson and Laois PPN Secretariat member Paddy Buggy, Cathaoirleach of Laois County Council Thomasina Connell and Donal Brennan Director of Services Laois County Council.
Over the course of the two days delegates attended a variety of presentations and workshops on:
Success of the PPNs: "Supporting Communities – Community Response Forum", presented by Dan Bergin Resource Worker Laois PPN and Siobhan Griffin on behalf of Kerry PPN. The opening presentation of the Conference which detailed the integral role PPNs had played in supporting communities during Covid 19.
Represent App, presented by Nina Horan, Laois PPN Secretariat Member. A presentation on how innovative technology could be used to engage youth participation on policy making.
Implementation Road Map presented by Aoife O'Brien and Elaine Jennings of DRCD. This workshop looked at developing a road map to further strengthen the PPN structures.
Positives of the PPN, presented by Charles Stanley Smith, NAG. Focused on the fundamentals that have contributed to the success of PPNs to date.
Beta Projects presented by Shane Waring of Dublin City Council. The Beta Project focuses on Community purposed solutions to address local issues on a trial basis.
Showcasing the fantastic work of a selection Laois PPN member groups delegates from across the Country were delighted select from 1 of 4 excursions. These included visits to:
Mountmellick Embroidery & Heritage Museum and Yarn Bombing Mountmellick
Mountmellick Embroidery and History Museum is a captivating experience bringing to life the magical art of Mountmellick Embroidery, a specialist craft unique to the town and entirely Irish in origin and design.
Yarn Bombing Mountmellick transform everyday objects into woolly works of art. Guests were treated to the magical fun and amazing colour that this community group brings to their beloved town, with a special Halloween themed display.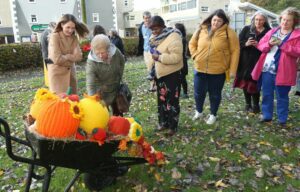 Click here for more Mountmellick Embroidery & Heritage Museum and Yarn Bombing Mountmellick photos
Camross Parish Development Association & Bloom HQ Mountrath
Guests were brought on a tour of The Village Park, a community led project in Camross. The Village Park includes a walkway, playing pitches, seating, a community garden, courtyard and hub. The Village Park will officially open on the 31st of October 2022.
Bloom HQ in Mountrath is a former convent has been repurposed and transformed into a state-of-the-art remote working hub. Bloom HQ benefits the community as a remote working hub and social amenity.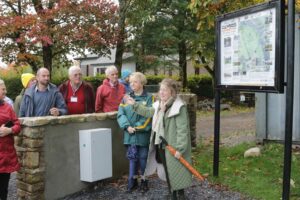 Click here for more Camross Parish Development Association & Bloom HQ Mountrath excursion photos
Abbeyleix Bog Project
Considered one of the leading conservation projects in the Country, Abbeyleix Bog Project is a community led conservation project covering almost 500 acres and is a treasure throve of biodiversity. Guests were given a guided walk and talk along the gravel paths and board walk.
Click here for more Abbeyleix Bog Project excursion photos.
Portlaoise Tidy Towns Walking Tour and the Portlaoise Plane
A walking tour of Portlaoise led by Portlaoise Tidy Towns. The group learned of the transformative work undertaken by Portlaoise Tidy Towns in collaboration with Laois County Council, which contributed to them being an IBAL winner in 2021. Portlaoise will become Irelands first low carbon town.
A guided tour of the Portlaoise Plane by National Heritage award winner for 2022 Teddy Fennelly. The Portlaoise Plane was the first airplane to be flown in what is now the Republic of Ireland and was constructed in Portlaoise.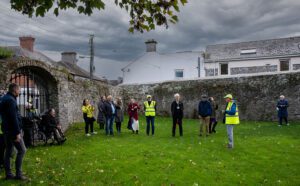 Click here for more Portlaoise Tidy Towns Walking Tour and the Portlaoise Plane excursion photos
A gala dinner was held on Friday evening for all attendees with Minister of State at the Department of Community and Rural Development Joe O'Brien in attendance. Minister O'Brien addressed the National PPN Conference, commending the Work of PPNs over the last two years in response to the Covid 19 pandemic and the arrival of displaced Ukrainians. Stating that PPNs have collaborated with local authorities and other local agencies on the community response to both of these events.
Minister O'Brien stated, "Despite the challenges brought about by COVID-19, 2020 and 2021 have both been years of growth and development for the PPNs. Their contribution has continued this year, when we began to welcome thousands of new arrivals from Ukraine to Ireland. PPNs work was and continues to be an example of how much we can achieve when we work together."
The Minister closed his address, confirming that his Department had secured additional funding for 2023 to support the important work of PPNs which was warmly received by the hundreds of delegates in attendance.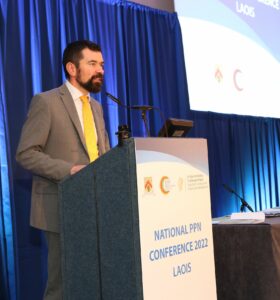 Click here for more photos from the Gala Dinner
Paddy Buggy, Conference Chair and Laois PPN Secretariat Member said, "I wish to thank Minister Joe O'Brien his Departments continued support of the PPNs and the welcome news of additional funding for 2023.
This Conference was our first in person conference since pre Covid. It was a privilege for Laois PPN to be chosen to host The National PPN Conference for 2022. This event has been months in the planning in collaboration with Laois County Council and the DRCD. Laois PPN wish to thank Laois County Council for their support in bringing the National PPN Conference to our wonderful County. I also wish to thank the DRCD for their support in our hosting of this event. Over the two days we interacted with our colleagues from across the Country discussing the many positives of the PPN, the road map for the way forward and exploring new innovations. PPNs play an integral part in supporting communities and working in collaboration with key stakeholders such as Local Authorities to enhance the quality of life in the Counties we live in."
Laois PPN wish to thank, Mountmellick Embroidery and Heritage Museum, Yarn Bombing Mountmellick, Camross Parish Development Association, Bloom HQ, Abbeyleix Bog Project, Portlaoise Tidy Towns and The Portlaoise Plane for their participation in making our National Conference a success and showcasing the amazing work of our Community Groups.
A special thank you to Diane Seale, Laois PPN Support Worker and Dan Bergin Laois PPN Resource Worker on their organisation, creativity and attention to detail which helped ensure the success of the National PPN Conference 2022.
Thank you to the hundreds of delegates for attending and participating. We are immensely proud of our County. We look forward to welcoming back in the future to experience more of what our wonderful County has to offer."
Click here for the National PPN Conference 2022 Report